Hello, Kiddo, it's a little after 9 this Saturday morning and all I can do today is write. I have nothing else to do, everything is holding. How have you been, Sweetheart? Daddio is in agony with a sore upper back, I hope that you are feeling better than I am. My Soulie says not to worry so worry I don't, but it does hurt. It's in the area between the upper part of my shoulder blades, right about where my Soulie would pop in and out of during May 2015. She agrees, I don't know if that's a good thing or a bad thing. "Good thing" she says. 
The other night I experienced my first materialization, or as my Soulmate said "I got a taste of". A transparent rectangular-shaped box levitated over our bed for about 3 seconds before it dematerialized. Oh Kiddo, the things that I'll be able to do. Every day I'm learning something new, and fast, and my pennies from heaven have seemed to increase. The consistency of certain numbers have also increased in regards to random sighting. 
Another thing that is new to me is how she is encouraging me to think of what I am going to wear, Kiddo. I mean, I never gave it any thought before as to just what will we be wearing when we're seen in public. Will I be in sweats? Will she as well? What do you think, Kiddo? I myself am looking at the "Neo" look, you know, from "The Matrix". 
I enjoyed the first two installments of that series. The third one was mostly eye candy for me. I think that is what most movies are about anyway today, the eye candy. The story lines are atrocious, and everything is a remake, so it seems. But add some eye candy and all is forgotten. 
I do like that lightsaber, though. It has "Me" written all over it, at least I think so. Scientifically there is no way to control the length of a beam of light without something physical interacting. In other words, there's no length adjustment on a flashlight to emit a beam of light 3 feet long. A beam of light will continue to travel until something prevents it from doing so, like a hand.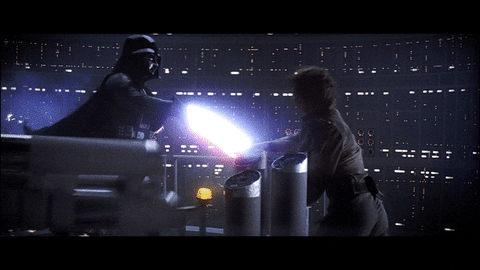 I know that a lightsaber isn't a real thing, but I do see one. And it looks real. I know that lasers are real, and that they can cut through metal with ease. Here's a short video of a laser's precision regarding metal cutting . . . 
I think that it's amazing how a beam of light can cut through metal. If a beam of light can cut through metal it can then cut through just about anything, Kiddo. Can I replicate a working lightsaber? According to my Soulie, "Yes you can." I mean, I do see a beam of light that is limited in length by an unseen force.
If it looks real enough he can materialize it.
The only concern that I have is what would actually happen if 2 lightsaber beams were to touch, Kiddo. This isn't the movies, if 2 lightsaber beams were to actually make contact with each other, what would happen? 
As far as I can tell from what I looked at, nothing will happen. The beams would simply cross paths with each other. Darth Vader and Obi Wan Kenobi could never have a duel with lightsabers. Why do I use Darth Vader in some of my posts? Because I think he's cool, that's why. 
I don't think of myself as Darth Vader, Kiddo. I think of myself as myself, no one else. But I do think Darth Vader is cool. 
Okay, Kiddo, it is now Sunday morning, almost 5:30 AM. I realized that I may have been beating around the bush in regards to this post's title, "Zeusophobia", which is an actual word, by the way.
Zeusophobia
Fear of God
I find it odd that the psychological term for the fear of God is called Zeusophobia". 
Shouldn't it be called "Godophobia"? I mean, shouldn't Zeusophobia be the fear of Zeus? If anything, the fear of God should be called "Yahwehphobia". But for now we have Zeusophobia to work with. And in this case it is fitting, Sweetheart. Does someone have Zeusophobia? I am going to post some images that people have uploaded to the internet, and I would like for you to read them and see if you can find what they have in common.
As I have openly stated before, Zeus wasn't a loyal husband to his wife. And we know who his wife was and is. 
My Soulmate is afraid of the possibility that I could be "Zeus-ish" again, after all, I am still walking around carrying a trident in my left hand. However, I would like to think that I'm still carrying one of these;
Daddio was fucking awesome when he was Hermes, Honey. People think that Hermes was the son of Zeus when in actuality Hermes was the "reincarnation" of Zeus. Hermes is known as the messenger because he gave people the message just as Charlie has done, Sweetheart, but back then people listened, and they did what Hermes wanted them to do. If they didn't listen Hermes would have gone "full blown" God on them. Hermes was more powerful than Zeus, but Hermes didn't need to exercise that power, so he became known as the "messenger of the gods" because all he did was give a message. And they got it.
Did anyone listen to me, Kiddo? If they did, they did a poor job of convincing myself otherwise. This does not include my Facebook account, those who stayed with me are good. So not to change subjects, all I can say, with utmost honesty is, for me to solidify my loyalty I need someone physical to be loyal to. I am loyal now, but not physically, so to speak. My mind wanders. I don't want it to wander, and neither does someone else, but I need physicality not to wander. In other words, I don't want to generate imagery. When I generate imagery others get generated involuntarily, Kiddo. I'm just a generating machine, I can generate anything. 
Including affairs.
She's not lying. I could generate an affair if I wanted to, but if I have her by my side instead of inside I would have no reason to generate an affair would I? I can promise her loyalty, only when she's physical. But she is here, Sweetheart. 
There's something else too.
Ever hear of "teratophobia", Kiddo?
teratophobia
Fear of giving birth to a monster.
I know what you will be capable of doing, Charlie, you don't know even though you do know. You haven't accepted it yet which isn't a bad thing, and that is what I'm banking on, the fact you are humble, and I need you to stay that way after, baby.
Will I become a monster? I hope not, Kiddo. 
Ar

ca

di

a
A mountainous region of ancient Greece, traditionally known for the contented pastoral  innocence of its people. Any real or imaginary place offering peace and simplicity. 
Doesn't sound like a bad place to live, as long as it's real I guess. Peace and simplicity, how much more could one want? 
When I can touch my Soulmate's bare ass with my bare hand then she gets my loyalty, Kiddo. My physical loyalty that is, for right now she has only my conscious loyalty. Saying and doing are two different things. 
Anywho, it's time for some sleep. I might make a post containing only pictures and music videos just for you, but I need to write an important letter first, so my Soulie says. Is Zeus coming back, Kiddo? No. My Soulie only wants me to know that she doesn't want "Zeus". Or Hermes or anyone else. Sounds good to me 🙂 .
Enjoy your day, Kiddo, it looks like it is  going to be a nice one. Stay safe, keep it stellar, and know that I miss you bunches. 
With love, Daddio
xo xo 
. . . 
. . . 
. . .
Hexakosioihexekontahexaphobia- Fear of the number 666.
Hippopotomonstrosesquipedaliophobia- Fear of long words.
Lygophobia- Fear of darkness.
Mnemophobia- Fear of memories.
Optophobia- Fear of opening one's eyes.
Sciophobia/Sciaphobia- Fear of shadows.
Tonitrophobia- Fear of thunder.